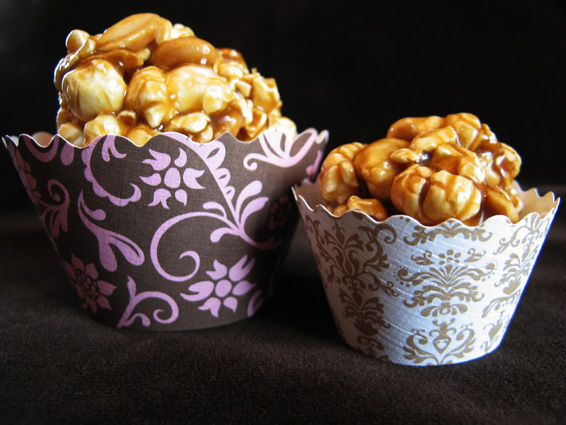 I remembered this recipe for caramel popcorn from my high school days, and I am so pleased I got the recipe from my friends mom this week that I had to celebrate by making up a batch!
They would be perfect for that Halloween party you are planning. The best thing about these popcorn balls is that they stay chewy and don't harden like some I have tried. Like the cupcake wrappers? They are from Bella Cupcake Couture!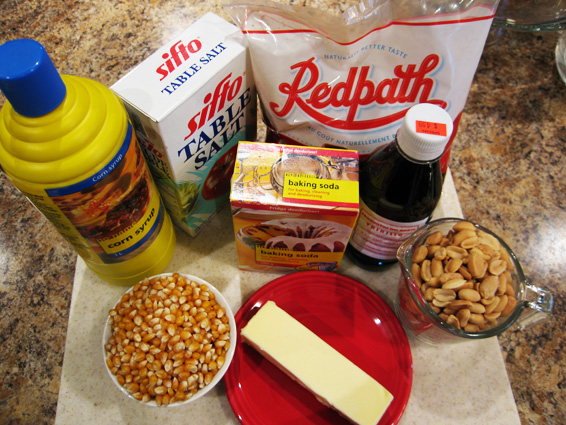 Here are the items you will need to make this great treat: 1 1/4 cups popcorn kernels, 1 cup butter, 2 cups brown sugar, 1/2 cup corn syrup, 1 tsp salt, 1 tsp vanilla, 1/2 tsp baking soda, and as an option you can add 1 cup peanuts.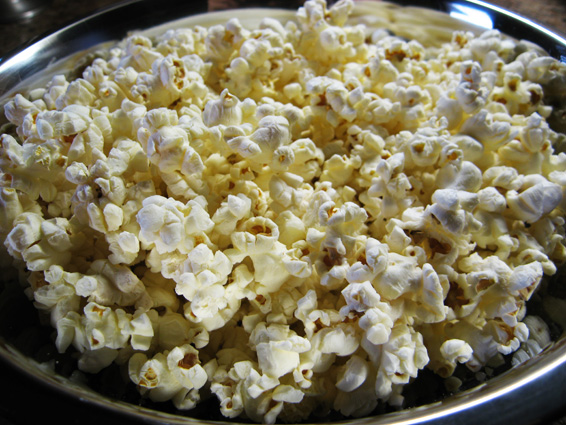 Pop the kernels into popcorn and set aside. Note- be sure to fluff up the popcorn and remove the un-popped kernels (there is nothing worse than unsuspectingly biting onto a hard kernel). Be sure you place the popcorn in a bowl large enough for 24 cups of popcorn and a little room to mix in the sauce.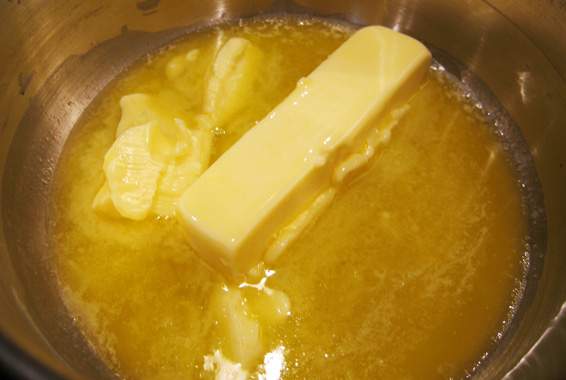 In a large saucepan over medium-high heat, melt 1 cup of butter. Did I mention there is a lot of butter in this recipe?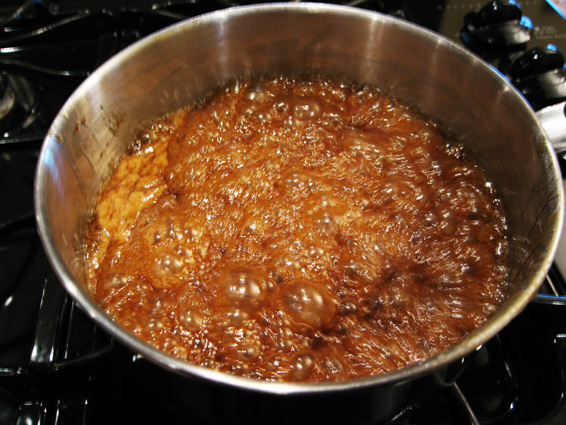 Once the butter is melted, add 2 cups of brown sugar, 1/2 cup corn syrup, 1 tsp salt, and 1 tsp vanilla. Once combined, bring the caramel sauce to a boil. The salt adds just the right amount of flavor needed to balance out all the sweetness.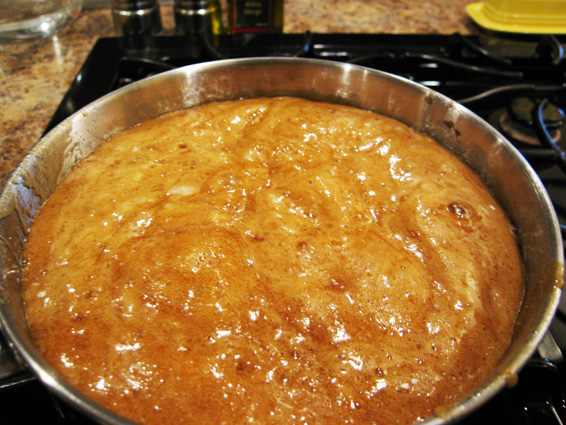 Remove the caramel sauce from heat and add 1/2 tsp baking soda and mix it in. The sauce will instantly fluff up and rise.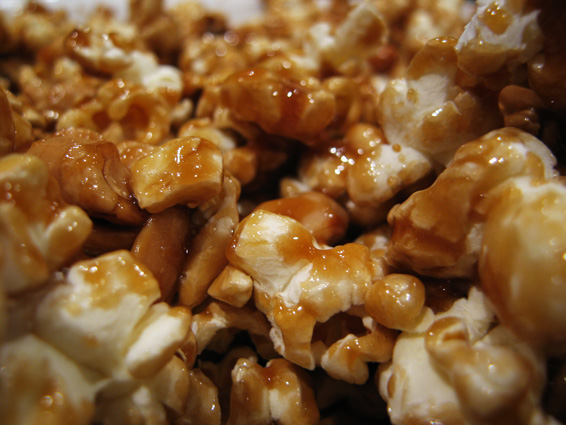 While the sauce is still hot, pour it over the popcorn and mix it very well with a silicone or rubber spatula.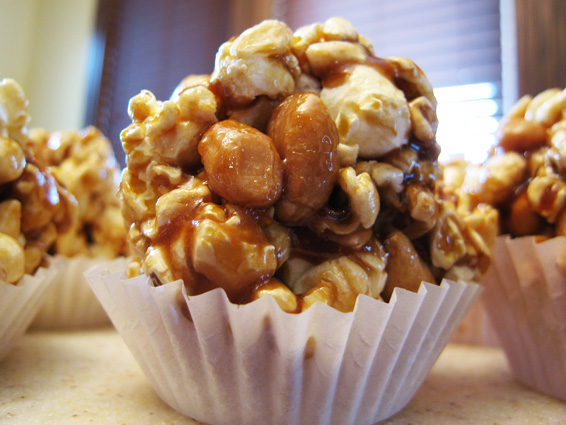 Form balls of the mixture by firmly squeezing a handful of the caramel popcorn and place in medium sized cupcake liners, The mixture will be very gooey, so you will really have to squeeze. This recipe will make 30 large popcorn balls, or 60 miniature sized.
*Tip: To keep the mixture from sticking to your hands, fill a small bowl with cool water to lightly wet your hands as you form the popcorn balls.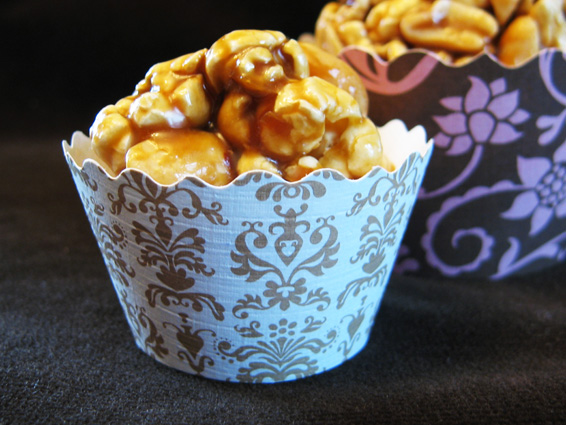 Make your presentation perfectly pretty by placing the popcorn balls in a cupcake wrapper. This gorgeous wrapper is the Lu Lu Gold and White Mini Wrapper.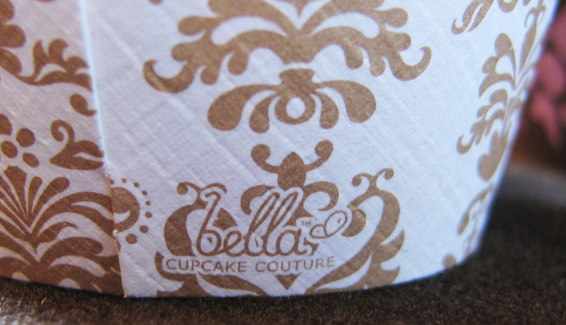 They come from Bella Cupcake Couture, they have so many sweet designs!

Caramel Popcorn Balls Recipe
1 cup butter
2 cups brown sugar
1/2 cup corn syrup
1 tsp salt
1 tsp vanilla
1/2 tsp baking soda
1 1/4 cup popcorn kernels (makes 24 cups popped popcorn)
1 cup peanuts
*Pop kernels and set aside in large bowl
*Melt butter over med-high heat in large saucepan, then add brown sugar, corn syrup, salt, and vanilla. Bring to boil.
*Remove sauce from heat and mix in 1/2 tsp baking soda.
Pour over popcorn while hot and mix well.
Form into popcorn balls and place in cupcake liners .
https://www.evadesigns.com/wp-content/uploads/2013/09/logo.png
0
0
Eva
https://www.evadesigns.com/wp-content/uploads/2013/09/logo.png
Eva
2009-10-25 00:35:16
2009-10-25 00:35:16
Caramel Popcorn Balls