Your Second Living Room- Outdoors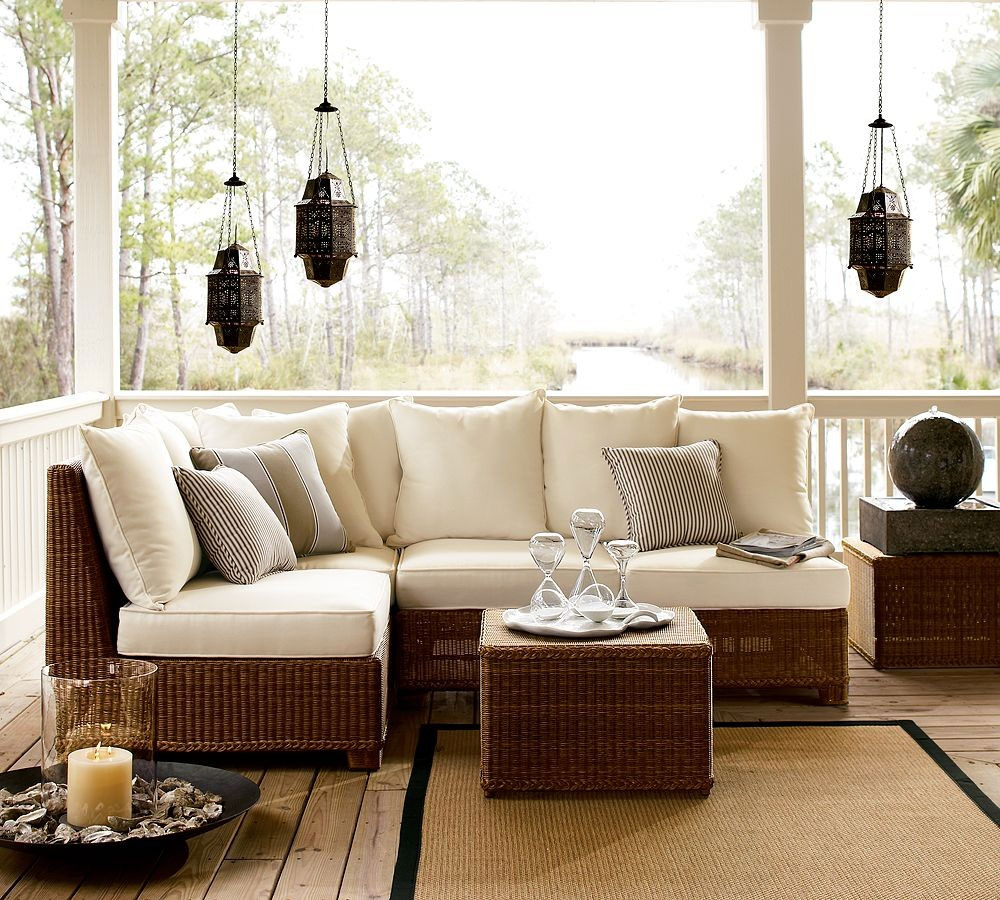 The best way to add a second living room to your home is constructing it without the construction crew, without tear-out of plaster and walls, and without the hassle that could otherwise cloud this lovely season.  I am talking about adding living space to your outdoors!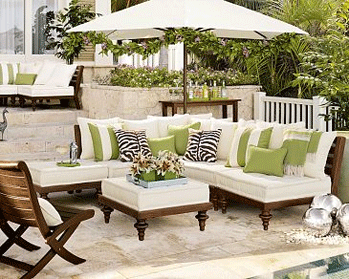 More and more homes are expanding their living quarters to the great outdoors, by adding an outdoor BBQ haven complete with a compact fridge and terra-cotta tiled countertops, or adding a lounge/ sitting area for entertaining or relaxing.  Dining Rooms and party hotspots are other options and there are so many great ideas out there! Take the Bali Rustic Teak Sectional by Pottery Barn; it would be a sensational gathering spot for family lounging.  The turned legs are a great detail and add more formality.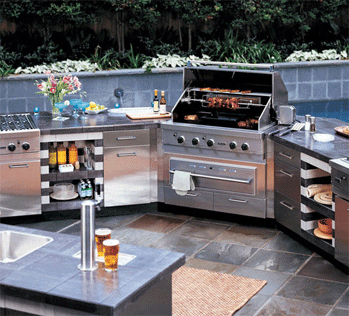 Viking has your outdoor cooking area covered whether you are grilling Kobe or hotdogs. Viking has an entire section devoted to outdoor kitchens; including ventilation, refreshment centers, refrigeration, or stainless steel cabinets.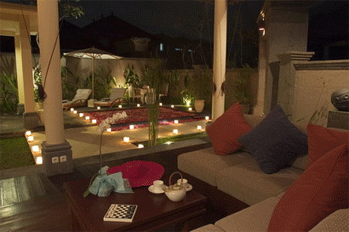 Think about when you will be using your outdoor space, if you work late and usually enjoy your backyard in the evening hours, or if you like to entertain outdoors, than you should cater to those needs.  Set up fabulous ambient lighting in walk ways, spotlights pointed upwards to dramatically light up your columns or trees, and comfy seats near an outdoor fireplace or bonfire.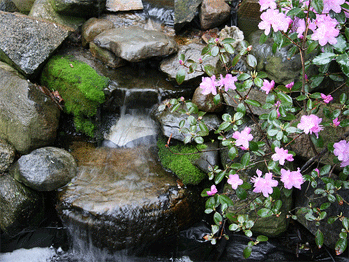 If you live near a busy area where traffic can be heard, opt for a pond with a fountain or a water feature that can mask those sounds and create a relaxing atmosphere.  Most of all take a look at your space, whatever you have (even if it is a balcony; which could be turned into a fabulous get away), and think about your hobbies and what you'd like to get your enjoyment out of.  My husband and I spent the sunny weekend hauling flat flagstone rocks to make a secluded nook beside our raised stone deck for a spot for reading and relaxing.  It took us a year to realize the little area existed and how it would be perfect! Take a look in your back yard, you may be surprised by all of your options.
https://www.evadesigns.com/wp-content/uploads/2013/09/logo.png
0
0
Eva
https://www.evadesigns.com/wp-content/uploads/2013/09/logo.png
Eva
2008-04-22 02:12:33
2008-04-22 02:12:33
Your Second Living Room- Outdoors