Get This Look For Less: Elegant Bath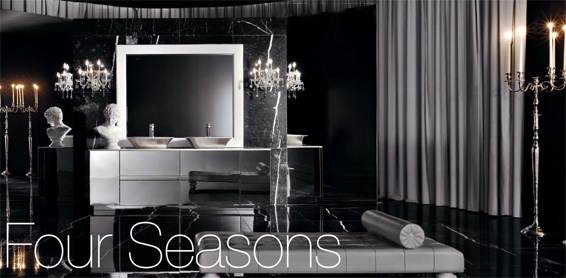 I adore the look of this stark black and white glamorous bathroom, but not too many baths are large enough to fit all of these elements. So can you get this look on a smaller scale and keep the sophisticated appeal? -Definitely! -And you can save a whole lot in the process.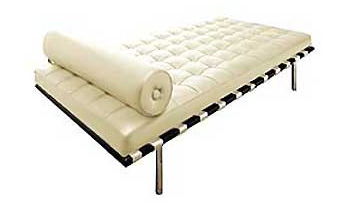 A Barcelona Couch by Knoll starts at $7563 US, but you can get a Pavillion Day Bed in white leather for only $899. If you don't have room for the whole lounger chaise, choose the Pavillion 2 Seater Bench.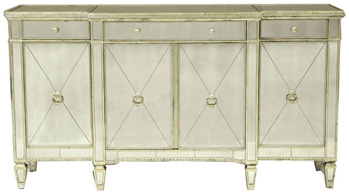 A mirrored custom vanity could run up a pretty tab, but any mirrored chest or cabinet could work too. Vessel basins require a hole cut through the top for piping ( a plumber or contractor could do this for you, just be sure the top isn't too thick for the plumbing), and a hole for the vessel faucet. If drawers line the top of the cabinet, have the drawer assembly removed and leave the drawer faux front. Something like the Borghese Buffet cabinet by Z Gallerie is a nice long size for a single or double vanity, but do consider a drop in basin if the height is too tall.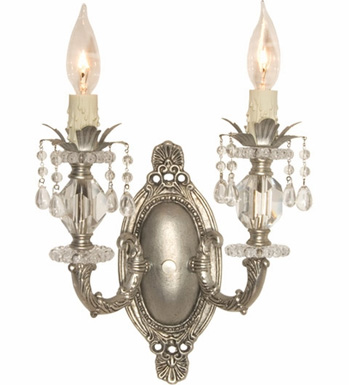 The light sconces in this bath have two tiers and have five lights dripping with beads. If you want to create this look in a smaller scale without having to import them from Beby Italy; the Silver Double Lily Sconce is perfect! When applied on the surface of an oversized mirror, it gives the illusion of double the light as well.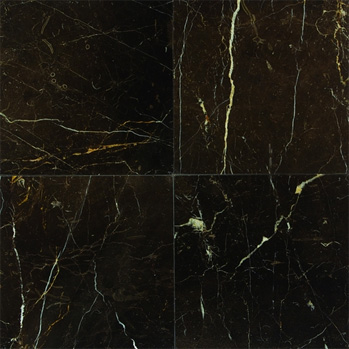 The tiles in this bath are installed up the walls as well as the floor, you can opt to have your walls painted a sumptuous dark tone instead and tile the floor and tub surround only. The proportion of a larger bath allows a 24″ x 24″ gorgeous black marble tile with white veining, but on a smaller scale you can choose the same tile but in a smaller size. The same tile in a 13″ x 13″ slashes the price sometimes in half!
https://www.evadesigns.com/wp-content/uploads/2013/09/logo.png
0
0
Eva
https://www.evadesigns.com/wp-content/uploads/2013/09/logo.png
Eva
2009-03-27 18:41:10
2009-03-27 18:41:10
Get This Look For Less: Elegant Bath