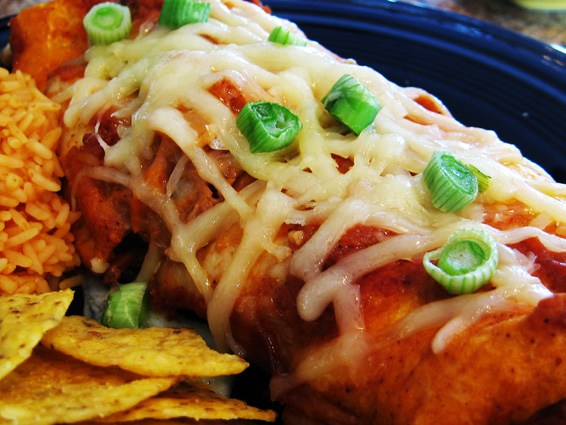 We used to have taco night at least once a week when I was growing up- this could possibly stem from the fact that both of my parents were born and raised in Mexico. I have a deep appreciation for Mexican food- an appreciation that runs deeper than the supreme fries you can get at the food court. Any combo with squeeze cheese does not constitute as a true Mexican feast! Here is my mom's recipe for Enchilladas, make them tonight!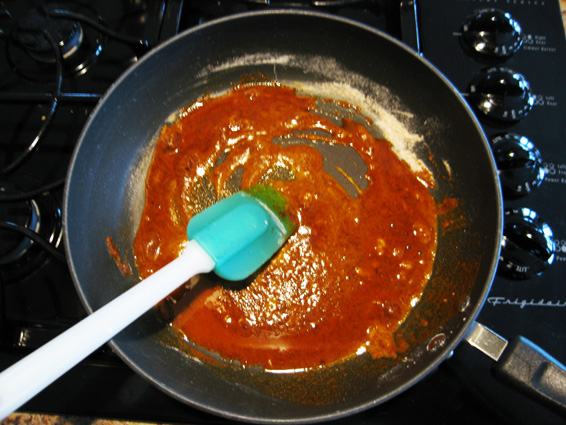 Start off with the enchillada sauce- this is the back bone of the recipe. All the fantastic spices give off an amazing aroma when this is baking! Brown the flour in a very large skillet over medium-high heat. Add chilli powder, cumin, and salt. Once those are combined add the oil and stir to avoid lumps.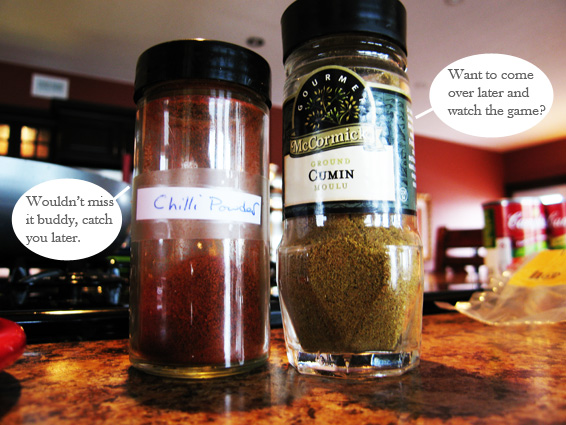 Chilli powder and cumin are my favorite spices, they give the sauce a major kick. I think that they are buddies, they really couldn't do it without one another. BFF's if you will. Back to the sauce: Slowly add water and 1 can of tomato soup, and garlic. Stir continually over low heat and simmer until thick. Turn off heat and set aside.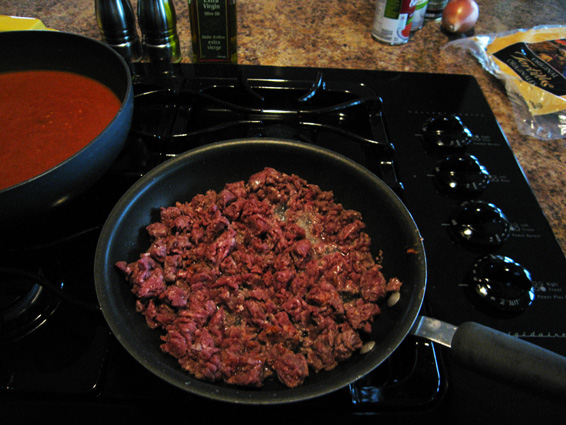 Now we start the filling for inside the enchilladas. Brown ground beef in a skillet with alittle bit of oil. When that is done drain off extra fat. (There is enough cheese in this recipe to make up for it).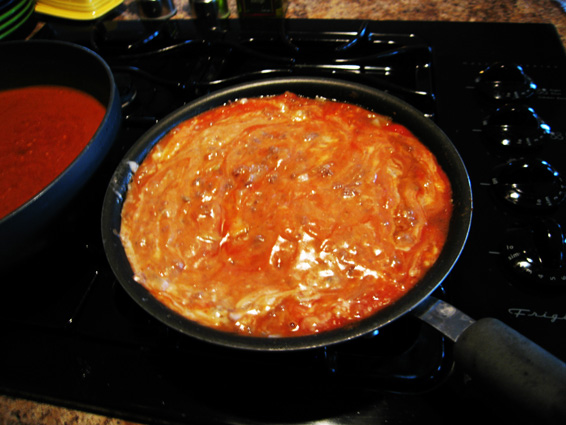 Add chopped onions, a can of cream of mushroom soup, a can of refried beans, a pinch of salt, cumin and cihlli powder (yay spice team!) to the beef. The filling is now complete!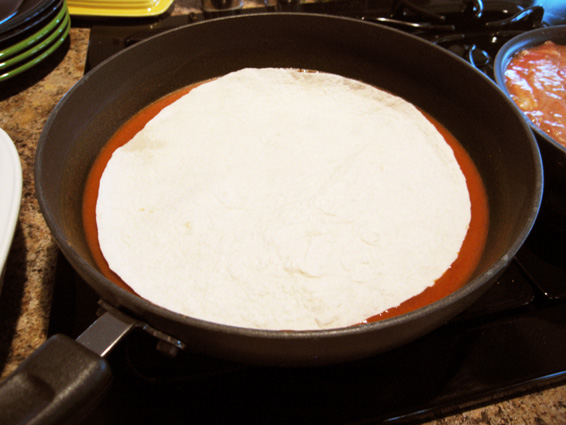 Here is where things get messy. Place one tortillia face down on the enchillada sauce, and turn over so both sides are coated.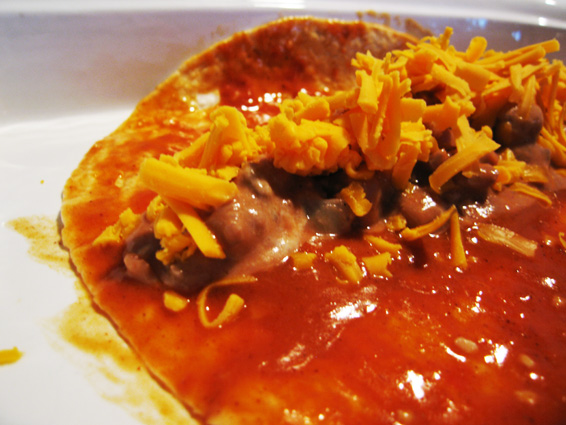 Place tortillia in casserole dish and put a good helping of filling in a line at the center of the tortillia. Top with a handful of cheese.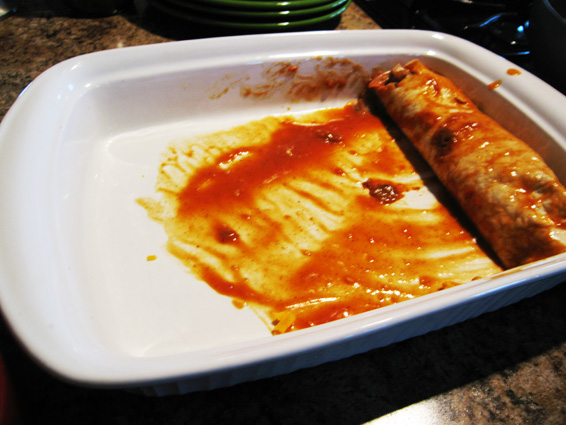 Roll up the tortillia and assemble more until the dish is full of enchilladas.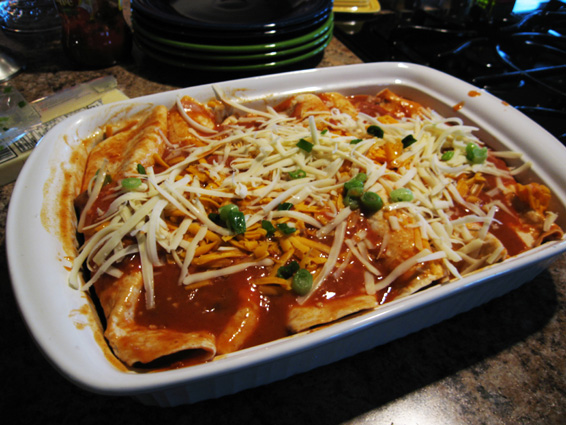 Once all of the enchilladas are in your casserole dish pour the remainder of the enchillada sauce on top of the enchilladas down the center. Top with more cheese and chopped green onions.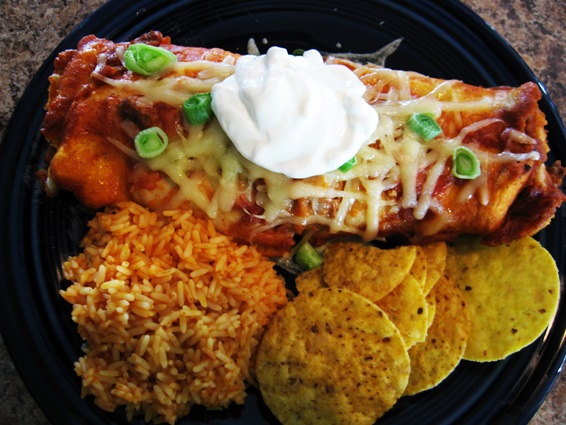 Bake at 350 for 30 minutes and top with a dallop of sour cream. Serve with refried beans, rice, nachos, or whatever floats your boat. Guacamole is great too!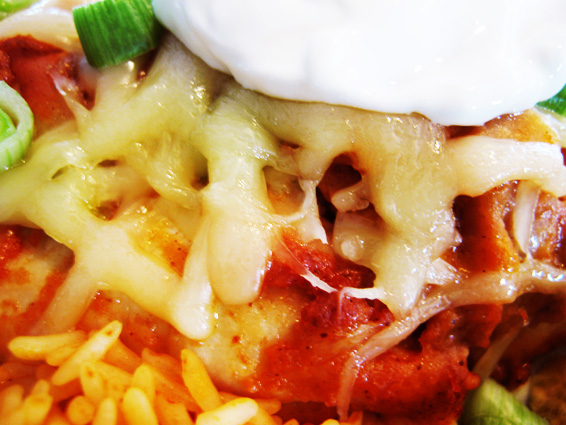 Oh I can't handle the cheesiness! You won't exactly feel like doing a salsa dance after this number- it is REALLY filling! Enjoy!
Enchillada Sauce:
4 tbsp Flour
2 tbsp Chilli Powder
2 tsp Cumin
1 tsp Salt
2 Cloves Garlic
1/4 Cup Cooking oil
1 Can of Tomato Soup
2 Cups Hot Water
Enchilladas:
6-8 Large Tortillias
Extra Lean Ground Beef
1 Medium Chopped Onion
1 tsp Cumin
1 tsp Chilli Powder
1 Can Refried Beans
1 Can Cream of Mushroom Soup
Enchillada Sauce (see recipe above)
2-3 Cups of Shredded Cheese (Chedder and Mozzarella work very well)
Chopped Green Onions
Sour Cream
https://www.evadesigns.com/wp-content/uploads/2013/09/logo.png
0
0
Eva
https://www.evadesigns.com/wp-content/uploads/2013/09/logo.png
Eva
2009-03-06 20:40:12
2009-03-06 20:40:12
Enchilladas